Go home and love your family first.
This seemed to be one of the strongest messages during the most recent CFC – Youth for Christ Values Formation Training (VFT) assembly, livestreamed via Facebook and Zoom on April 27.
Them before others
"Sana bago tayo magsabi ng 'I love you' kung kani-kanino, sana matuto tayo mag 'I love you' sa mga parents natin, sa mga kapatid natin," (Hopefully, before we say 'I love you' to anyone, we learn to say 'I love you' to our parents, to our siblings," stressed newly-wed Couples for Christ (CFC) lay missionary Nica Fabia – Villafuerte, who gave a talk on "Appreciating My Family" to hundreds of ANCOP sponsored students from various grade and year levels.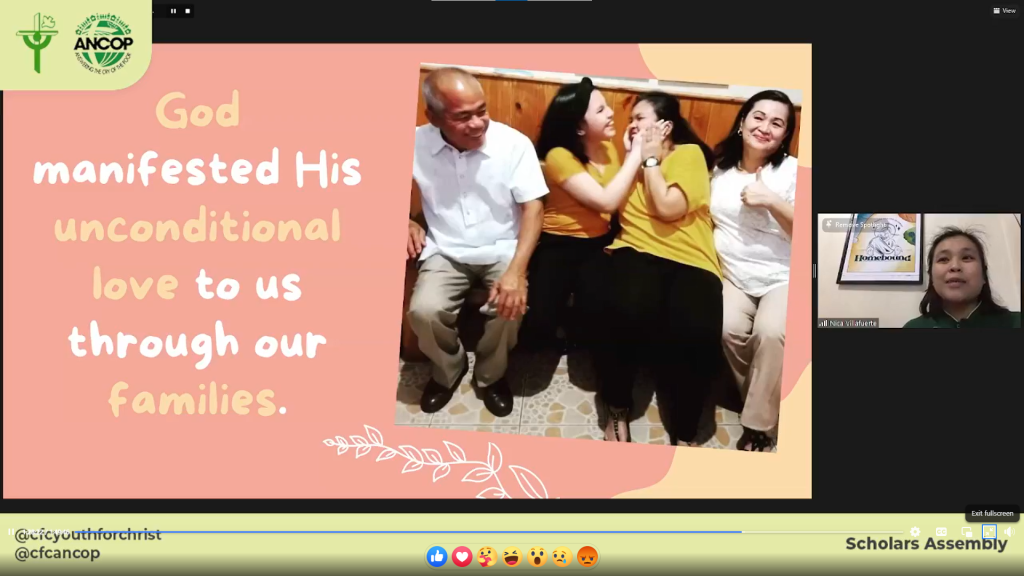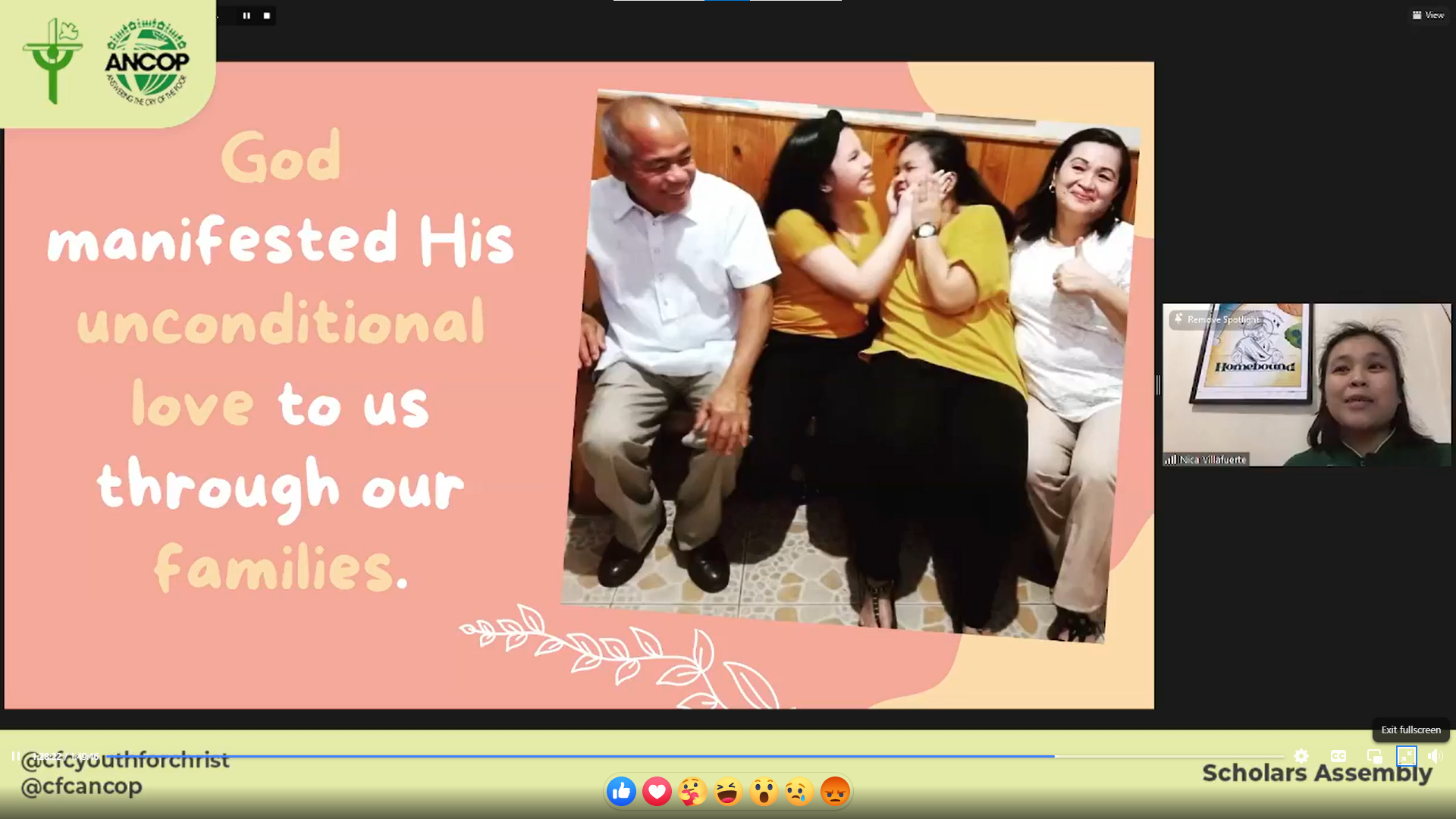 While it is true that our families will remain imperfect, the first duty of love is still to these people whom God Himself had chosen for us.
Nica added, "Our family will always be our first neighbor."
You can't love what you don't know
Giving several strong but gentle 1-2 "punches", the speaker encouraged the young people listening to make an effort to know their family members.
She said: "Sana mas kilala natin sila more than kilala natin ang BTS. Sana mas kilala natin sila, more than kilala natin ang mga crush natin, (Hopefully, we know them more, more than we know the BTS. Hopefully, we know them more, more than we know our crushes.)
As St. Thomas Aquinas said, man cannot love what he does not know.
Nica, who serves in CFC's Pastoral Formation Office group, was quick to address the reality that many young people tend to devote more of their time with their friends rather than with their families.
"Madalas natin makita 'yung sense of belongingness sa mga kaibigan natin kaysa sa sarili nating pamilya…But the thing is, mas nakikilala natin 'yung mga tao, mas nabigigyan tayo ng maraming dahilan para mahalin ang mga taong 'to (Often, we find our sense of belongingness with our friends, more than with our own families…But the thing is, when we get to know people more, we find more reasons to love them), she explained, encouraging the young people listening to make time to get to know their family members deeper.
She noted how simple bonding moments like asking our parents or siblings about their favorite food or color is already a way to deepen how well we know them.
'Time is short'
At the end of the session, many ANCOP scholars shared the points that struck them the most.
For Mary Grace Supas, "Family is your source of happiness, strength and courage."
Some like Charles Rian Carpio also realized that time with our families is ultimately limited.
He said, "Time is very important, and time is short so we better spend time with our family more."
No comparison
Meanwhile Jamil Mahinay showed that even irregular families still reflect God's love despite pain and imperfections.
"Even though my parents are separated, I still love them unconditionally. Shout out to all independent students!" he shared.
Truly, as Nica pointed out, one can never compare one's family with others' families…
"Each family is created and intended to have a unique part… We have to embrace our family, regardless of who they are…You are to be happy wherever the Lord has placed us in our family," she added.